Shopify bundles: Everything you need to know
In both online and offline business, increasing the number of products per order is absolutely vital. It enables you to increase your revenue and your profits. Everyone understands that fact. Yet how to increase your average order value is a challenging task for online store owners. In fact, shopify product bundles are effective methods for you to achieve your goal. In this blogpost, I will share everything you need to know about Shopify bundles.
Do you have a Shopify eCommerce website? If not, follow my instruction?
Shopify is one of the most outstanding platforms in the eCommerce market. It helps you to build your own online store without too much technical knowledge. Besides that, you can customize your brand in your own style. Moreover, it also provides a convenient interface for both sellers and customers. Particularly, it is suitable for all types of online stores. I guarantee it is one of the most functional eCommerce platforms. Let's be creative to be the best one.
Furthermore, Shopify developers offer a wide range of customized apps and themes. In particular, two Shopify apps are totally free. It will assist shop owners who are not good at technology. Let's explore Shopify and be unique.
After all, we will discover everything relating to Shopify bundles. It will help you to achieve higher average order value and get rich.
What are Shopify bundles?
Shopify bundle is one of the most efficient upselling methods. It enables online store owners to sell separated products as a type of a combo. In general, when selling as Shopify bundles, the price of a product is usually lower than the actual price. Generally, in this case, the consumers can afford reasonably priced products, while Shopify merchants can boost their average order value. This difference in the price is called "consumer surplus".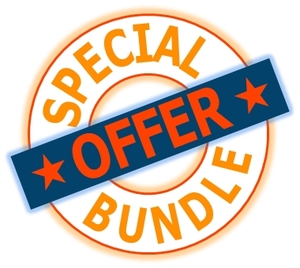 Six common types of Shopify bundles:
Group bundles:
Group bundles means that the suggested pack of products includes the products usually bought together. Since it is constructed by the historical data of sales. Group bundles to be created automatically or manually by store owners.
Variant based bundles:
This type of bundle is created by different products. It is more likely to have similarity in features or materials. For instance, variant based bundles offer a silver T-shirt together with a silver pair of sneakers.
Pack bundles:
Pack bundles tend to offer customers to buy a number of products as a predefined pack. For example, if you buy a pick of six Snickers, you will get 10% off.
Mix & match bundles:
This type of bundle enables customers to combine the pack of products on their own. For instance, Kirkland enables customers to choose 3 T-shirts in the Summer collection. Thus, it will help store owners to understand customers' behaviors and preferences.

Combo Product Bundling:
In Combo Product Bundling, store owners mix a number of different products to sell it as a product. For example, Sony offers customers Playstation 4 Fifa Bundles. It consists of a Playstation 4 and a blu-ray disc of Fifa 2020.
Buy One Get One (BOGO):
This type of bundle offers a special price when customers buy one product together with another product. For instance, sometimes when you buy two T-shirts in H&M, you will get a 20% discount for the second one.
Discount tactics to attract customer to buy Shopify bundles:
Fixed Value:
FIxed value discounts are applied for customers who add several products to their cart. To put it simply, you only need to pay 20 dollar instead of 30 dollar, if you buy more than any two T-shirts.
Buy X get Y:
It means that customers will receive a free product or a little money when they buy a product. In general, once you buy a bottle of body soap, you will get a cake of soap.
Percentage Discounts:
Percentage Discounts offers customers a discount when they buy Shopify bundles. For instance, when you buy a bundle of three socks, you will get 10% off.
How to choose the most suitable Shopify bundles app:
On Shopify store, there are a wide range of Shopify bundles apps for you to choose. Yet finding the best one is not an easy task. In order to choose the best one, you should answer these following question:
Can you preview and customize the bundles?
Would you be able to analyze the app's performance?
Are manual and automatic bundles supported?
Are you able to change the location of the bundles?
Does the app provide technical support when you need?
Is it easy-to-use?
How to set Shopify products bundles effectively:
Although setting up a Shopify bundles strategies is not difficult, you should answer all these following questions to ensure that your tatic is good.
What product bundles should you create?
These are some potential Shopify bundles tactics that you can refer to:
Top selling products: Displaying it on your homepage to attract customers on the first sight.
Complementary Bundles: selling a product matching to another. For instance: You can sell a shirt together with black pants.
Least selling products: a combination of products whose order is low and offer a shock discount.
Promote new collection.
Enable customers to customize the bundle with their favorite products.
Add the sample of new products to the bundle.
Add the unique product to the fixed bundle.
Cooperate with other businesses to offer a steal deal of bundle for customers.
Where should Shopify bundles be located?
Displaying it as a dedicated page.
Showing it as a form of pop-up on the products page.
On the products page.
Under the Add to Cart button.
To Conclude:
Here is my instruction for you to familiarize with Shopify bundles. I hope it will be useful for you. I ensure that it will maximize your Average order value. Please remember ArrowHiTech always offers a wide range of excellent Shopify themes and apps.
If you have any problem in setting up your online store from scratch, do not hesitate to meet ArrowHitech. Our 12-year experience staff in Shopify development and outsourcing will help you set up your dream online store.